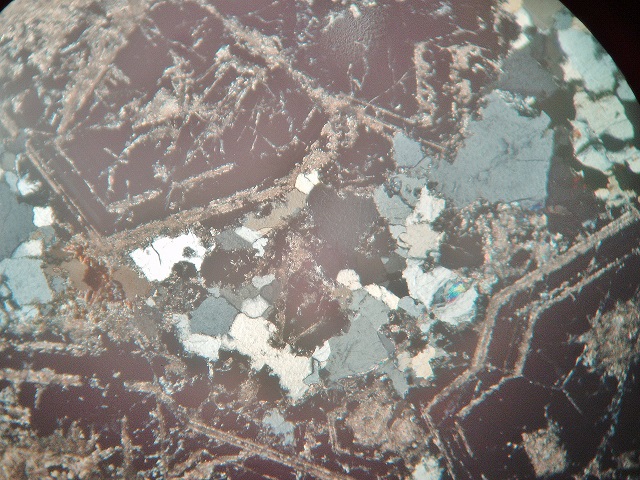 Cross polarised light Although belonging to the trigonal system, many of the harkerite sections behave anomalously as a cubic mineral as seen here and thus appear to be isotropic. Its ready alteration to carbonate is also evident. The mineral with low birefringence interference colours (grey and white) suggest quartz but its higher refractive index suggest it is monticellite, a Ca/Mg silicate.

Map showing locality of Allt na Garbhlain, Camas Malag, Kilbride, Isle of Skye NG5853 1877


Created with Memory-Map. ©Crown Copyright. Licence number 100034184. www.memory-map.co.uk


Harkerite is a complex compound carbonate containing boron and was first described in 1948 by Tilley after the petrologist Alfred Harker of the Scottish Geological Survey. It was first discovered during a survey of the zoned contact-skarns of the Broadford area, Skye where the mineral is developed at one locality only, that of Camas Malag about 4.5 miles SW of Broadford. The mineral is a result of metasomatism between a tertiary granite and the Cambrian Strath Suardal Limestone.